Now if you know me, you will know I am NO retail clothes Maven – I need some serious HELP!  I have been lucky enough to have BINS and BINS and BINS of hand-me-downs for my kids, but sometimes the stains and styles are too far gone.  I LOVE Gymboree clothes, but lets be serious – they are WAY TOO EXPENSIVE.  Then I saw my new bloggybootcamp pal Dianna (a pure bread Kentucky gal with the southern charm & drawl to prove it) tweeting about Gymbucks and knew she was the one who could school us on the art of shopping Gymboree.  So lets WELCOME Dianna and learn from her Gymboree prowess.
The Art of Shopping Gymboree
I've been in love with Gymboree fashion for over 15 years. I don't have an unlimited budget for these expensive togs for tots, but I can share my tips with you for getting the most out of your Gymboree dollar.
1. Gymboree Mailing List
Signing up for the Gymboree mailing list gives you the best notices of upcoming sales, promotions, as well as coupons.
2. Gymbucks
Think frequent shoppers club, with a twist. During Gymbucks earning periods (approximately four to six times per year), every $50 you spend nets you $25 in Gymbucks. These can be spent during the redemption period for money off your purchase – Buy $50 of merchandise, cash in $25 Gymbucks, and you spend $25 out of pocket. You can even buy Gymbucks on Ebay, earn them with Gymboree Play and Music classes, or beg them from your friends! I stick to the sale strategy described on Loobalee – I earn Gymbucks on sale items, and spend them on sale items, maximizing my savings.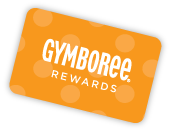 3. Gymboree Rewards Program
Become a member of this simple program, and Gymboree tracks your purchases, Periodically, this translates into dollar off coupons which can be stacked with sales, other coupons and Gymbucks. Another bonus? Gymboree rewards members can shop a day early in storewide and online sales!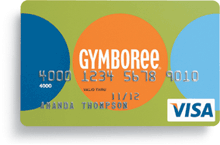 Interested in opening a credit card? (It's not something I do, but it can save on your purchases) New enrollment will get you a $10 enrollment bonus, 5% on all purchases on Gymboree.com, inside the Gymboree store, as well as the Gymboree Outlets. 1% of all other purchases will earn 1% toward a Gymboree gift card.
5. Get Personal
Get to know your local salesperson – I have a favorite local saleswoman that I ADORE! I can call her and tell her what sizes I'm looking for, and she will have them waiting for the store. She helps me get the best deal for my dollar by bringing out deeply discounted items from the stock room.
6. Shop end of season for next year.
I'm buying next summer's wardrobe NOW at rock bottom prices, and stocked up for this fall right after Christmas last year. If you're skilled at estimating what sizes your children will be wearing 6 months from now, this is the way to go.
7. Stack a coupon with a sale.
Periodically, Gymboree will host storewide sales with 25 to 30 percent off everything. Save your coupons for events like these, where you can add the coupon to the sale, and you'll end up with a 45 to 60 percent discount. For a total hat trick – do this while earning Gymbucks, for the best bang for your buck!
8. Connect with Gymboholics
Looking for moms like you, who are crazy about Gymboree? You can chat about Gymboree lines, past and present, and peruse the Gymboree line pictures at GymboFriends.
Trying to identify an item you have? Want to figure out what line you have, and need more of? Take a peek at Gymbohaven's extensive list of past and present lines.
Want more ways to chat it up with other Gymbo moms? Check out Gymboplace for more tips.
9. Go Second Hand
Are you a fan of Ebay? If I'm not shopping at the Gymboree store, I've found some of my best deals on new and gently used outfits on Ebay.
Love Goodwill and thrift stores? Keep your eyes peeled – I've managed to find a lined Gymboree raincoat and other pieces there. Consignment stores can be a treasure trove for Gymboree goodies — I just picked up some sweaters, button down shirts and vests for the boys – all marked down.
My most successful venue for buying and selling used Gymboree are the seasonal consignment sales in my area. Never been to a sale? Check out my tips on how to shop without knocking yourself out. Need to clean out your closet? Here's the tutorial on how to get started with selling your children's clothes.
What about you? Have any tips that I've missed here? Let's learn from each other, since the biggest sales of the year are coming soon!
When she's not scanning the racks for the best Gymboree deals, you can find Dianna writing at The Kennedy Adventures, where she talks about faith, family, and raising identical twin boys!